By TREY WILLIAMS
H&T Correspondent
College football recruiters are finding David Crockett's Prince charming.
Rising senior athlete Prince Kollie has elite-level offers piling up. Tennessee, Auburn, Virginia Tech, Oklahoma, Michigan State and Virginia are among the numerous programs to offer the 6-foot-1, 200-pound Kollie.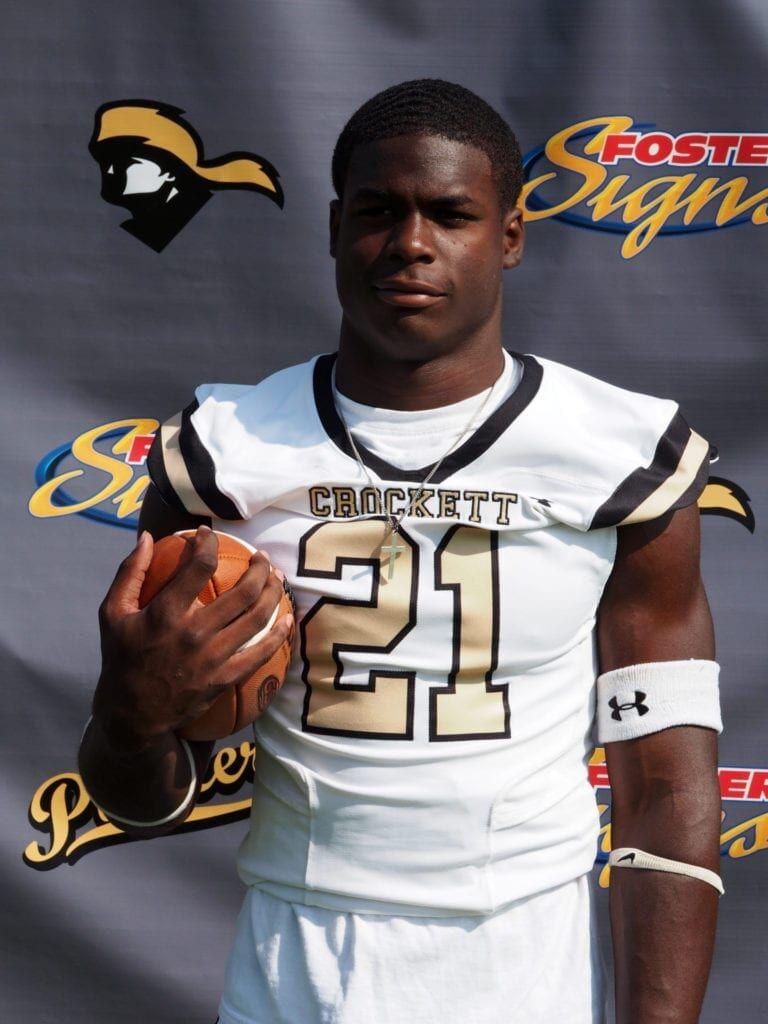 Crockett coach Hayden Chandley said last spring – when quarterback Cade Larkins (East Tennessee State) and receiver Donta Hackler (Tusculum) were on the tips of tongues – that Kollie would end up being a touted college recruit. But the meteoric rise has been a lot for even Chandley to take in.
"We all kind of knew he was big time," Chandley said. "We just didn't know how much he would implode once everything started. They always say once you get that first one everybody else comes calling, and that's kind of the way it happened. The University of Virginia was his first one, and after that, you know, they just started rolling in.
"I guess the moment for me when I knew, 'Okay, wow, this is some next-level stuff' was when I was out mowing the yard and had my earphones in and got a notification that I was getting a phone call and I looked down at my phone and it was an unknown number from Auburn, Alabama. I thought, 'Well, I better stop to answer this one.'"
Chandley has talked to colorful Tennessee assistant Jim Chaney about Kollie, among other things.
"We talked fishing the whole time," Chandley said, "because I was actually going trout fishing with my papaw that day and he's a huge fisherman."
Virginia Tech was one of the first programs to aggressively recruit Kollie, who was recently invited to play in the Under Armour All-America game. Chandley played at UVa-Wise for defensive coordinator Justin Hamilton, a Clintwood legend who will succeed the legendary Bud Foster as the Hokies defensive coordinator this season.
"We've always had a pretty good relationship," Chandley said. "Prince and him stay in quite constant communication and me and Coach Hamilton have talked quite a few times as well."
David Crockett's Sandy Johnson, who scored eight touchdowns against Daniel Boone in a 74-0 win in the inaugural Musket Bowl in 1971, played at Virginia Tech. And he got some time on the field as a true freshman before deciding he'd rather be hunting and fishing and gave up the sport.
"I just want Prince to go where he feels most comfortable," Chandley said, "whether proximity to home is most important, or getting a chance to play right away as a freshman or competing for a championship or playing in the SEC or whatever it may be. He's gonna have a great opportunity wherever he chooses to go. He just wants to go somewhere where he's gonna really fit in with good team camaraderie and play for a staff that not only cares about him as a football player, but how he evolves as a young man as well."
Kollie is expected to play outside linebacker or strong safety in college. He's played four positions on defense and two on offense at Crockett.
"His sophomore year he played our strong safety type position," Chandley said. "We moved him at the beginning of his junior year to our outside 'backer hybrid position. And then we had an injury late in the year and moved him to one of our weak linebackers inside. And then by the end of the year he was playing our strong inside linebacker.
"He's got experience all over the field, which will prepare him even more for the next level. On offense he ran the ball his freshman and sophomore year, played receiver last year, and who knows where you might find him next year."
Indeed, with Mason Britton nursing offseason throwing-shoulder surgery and Larkins now at ETSU, Kollie could be at least a part-time engineer of a ground-oriented attack.
Wherever he plays, Kollie, who rushed for in excess of 200 yards as a freshman against Campbell County, does so without complaint.
"He's such a level-headed kid and that's one of my favorite things about him," Chandley said. "He gives all the glory to God, and that's what makes me so happy about being his coach."
Prince's brother John was a senior at Crockett two seasons ago and played last season at Trinity Christian. He signed and enrolled at Bluefield College in January. The 6-foot-1, 180-pounder is listed as a defensive back on the Rams roster.
Chandley played for Bluefield coach Dewey Lusk at UVa-Wise.
"John got a good package," Chandley said. "I think he was having a good semester until everything came to a halt. We're excited for John to get an opportunity to showcase what he can do."
Rising senior lineman Tony Davis could get some Division I offers this season.
"Tony has an offer from Murray State and a couple of D-II offers," Chandley said. "He's had some interest from some small FBS schools. I think if he'll work hard for the rest of the summer and have a good senior year, he'll pick up quite a few offers between now and the end of the season."
Britton could generate some small college interest if he's able to return and play receiver, and linebacker Johnny Loyd likely will as well.