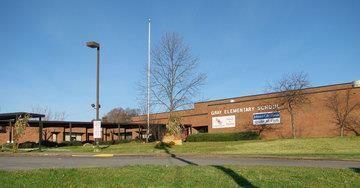 By MARINA WATERS
Staff Writer
It's been two years since Washington County considered re-bricking Gray Elementary School, but now the project is set to receive a new estimate.
On Thursday, Feb. 13, the Washington County Board of Education unanimously voted to have Steven K. Hutton and Associates, PC prepare an estimate on the project. Board member Jason Day, who is the facilities committee chairman, said he felt it was necessary to get a new estimate to have a more up-to-date price for the project when it, once again, appears before the Washington County Health Education and Welfare Committee. 
"I think we ought to explore actual budgetary numbers that are accurate and not old," Day said, "so if we do go ask for money, we know what we need."
Day said Architect Tony Street of BLS Thompson and Litton, who prepared the last estimate for the project, told him at the time that it needed new brick due to the age of the building and the brick ties that are rusted and have pushed the mortar out, allowing moisture into the structure. 
The recommendation to have an estimate prepared came from the facilities committee, but included that the board have BLS Thompson and Litton prepare the estimate. Board member Chad Fleenor made an amendment to that motion, suggesting the board select a new architect for the estimate.
"I would like to bring in another architect," Fleenor said. "It sounded like, sitting through this (facilities) committee meeting, we had it re-roofed thinking that was going to fix our (moisture) problems and it didn't. It's hard to believe it's the age of the school — it's 40 years old when I live in a 100-year-old house and the brick's still there. I'd at least like to get a new architect to look at it and bring us another set of eyes."
The previous price from BLS Thompson and Litton for the project was $300,000 in 2018, but School System Maintenance Supervisor Phillip Patrick previously said the price shifted to $575,000 that same year. Patrick had presented the project to the county's HEW committee in 2018. The committee opted to hold back on the project that year.
Board member Phillip McLain echoed the moisture concerns at Gray, saying something needed to be done to repair the brick, which could have moisture behind it.
"The last time I was out there, when you walk in the gym you smell a musty smell. So there is obvious moisture issues out there," McLain said. "There is some moisture getting in that building somewhere. I realize I'm not an engineer or an architect either one, but that brick coming out, there's got to be a lot moisture behind there that's freezing and pushing that stuff out. It just gets worse every single year."
The board also requested that Director of Schools Bill Flanary see if Steve Hutton would do a free estimate for the project.
The next BOE meeting will be held on Thursday, March 5, at 6:30 p.m. at the Washington County Department of Education located at 405 W College St., Jonesborough.